I headed to East Bay with my dad the day after Turkey Day in hopes of finding some schooling redfish in shallow water - and I did!
We visited a few marshes along the south shoreline and finally found one with some life. The redfish were thick in the back lakes and were schooling up by the dozens. They were moving slowly along the southern grass banks sucking tiny little ghost shrimp out of the mud. It was truly a site to see. The water was glass-calm and you could see pods of hungry reds patrolling the shoreline eating everything in their path.
I lost count of how many fish we caught on the day, but let's just say it was a BUNCH. These weren't little fish, either. Most of the fish we boated were in the 5- to 8-pound class - all in the slot - not a single throwback caught all day.
TTF Killer Flats Minnows in liquid lime accounted for most of the fish. I also threw a BIG MINO weightless and waked it on the surface and that drew plenty of strikes. Nothing cooler than watching a wake trail your bait and then seeing an open mouth inhale the MINO.
This picture pretty much tells the story. Slick conditions, skinny water and big fish. Good times with dad!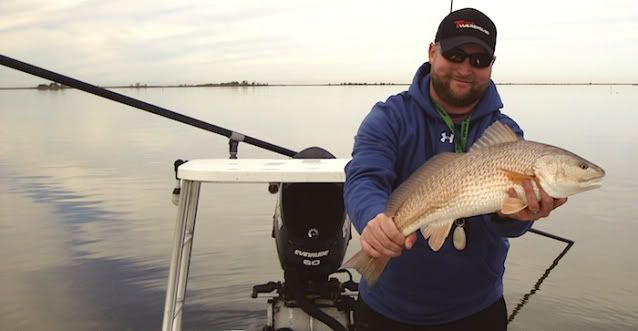 Also, after hearing reports from some fishing buddies that were also out that day, the redfish were going crazy everywhere. I got a 50-fish report from West Bay, a 40-fish report from further east than we were fishing, and another group told me they worked them over in Freeport. Great day to be on the water!