My buddy Scott and I had been watching the forecasts all week and just couldn't pass up the chance to get in on a little light tackle kingfish action last Friday (7/3/09).
We set out for Surfside bright and early, and it's a good thing we did. As expected, the little town of Surfside was a madhouse of folks eager to head out of the jetties in search of big fish. We launched the Beavertail about 6:00 am and decided to let the traffic at the jetties settle down before we went out to the big pond. We ran up the ICW to some marsh drains to see if we could get into any red and trout action at the back end of the incoming tide. Within 10 minutes we were putting trout in the boat.
We probably landed 15-20 fish in 30 minutes - all on topwaters. I was using a pearl Skitterwalk and Scott was fooling them with a redfish pattern Spook Jr. We boxed eight trout from 16-21" and decided it was time to go make it happen in the green water.
We took it slow out of the jetties and headed east. It was a little bumpy out there, but it was nice slow swells, so it was manageable. I lobbed out a big Tsunami Vibe (lipless crank) and set it in the rod holder while Scott started rigging up with wire in preparation for the kings. Before Scott could even get his bait tied on my rod was doubled over and my drag was whistling like a turbo charger. The fish put so much pressure on the rod I couldn't get it out of the holder, and right when I did my line snapped at the spool. I wasn't expecting to get bit so quickly, and that one caught me off guard.
We both got rigged up and started trolling within 1/2 a mile of the jetties. It didn't take long for us to start getting nailed. We ended up boating 6 or 7 kings, and we probably lost twice that many.
All fish were caught trolling the Vibes in 30-35 feet of water around slicks and pods of bait under diving birds. Surface temp. in the morning was 80 degrees. It rose to 84 by noon.
After we got our fill on kings we ran up in the marsh to look for redfish, just for the satisfaction of catching another species. Scott's first cast with a spinnerbait in a back lake resulted in a 21.5" red in the boat. Sweet. At that point is was getting hot to the point of almost being unbearable, so we put it on the trailer and headed to the house.
Here's a few pics of the action.
You didn't know the Beavertail was setup for offshore, did ya'? See, I've got a trolling deck.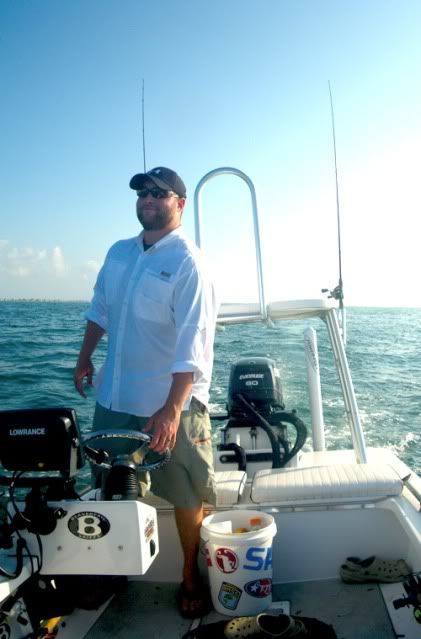 It even has a fighting chair... sort of.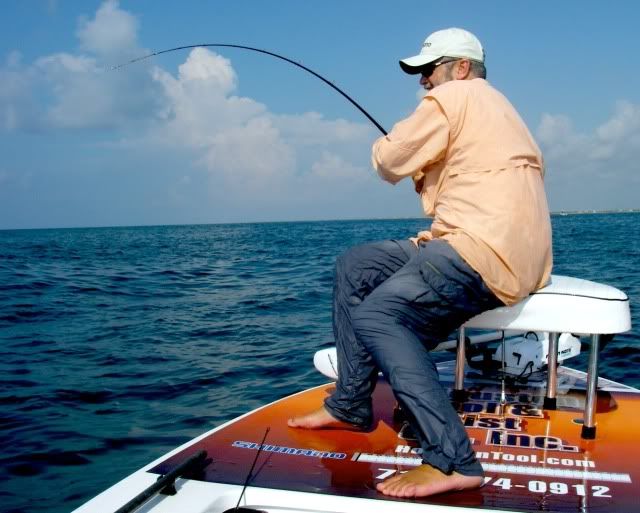 Scott hooked up on a solid fish:
Kings this size are a blast on light tackle.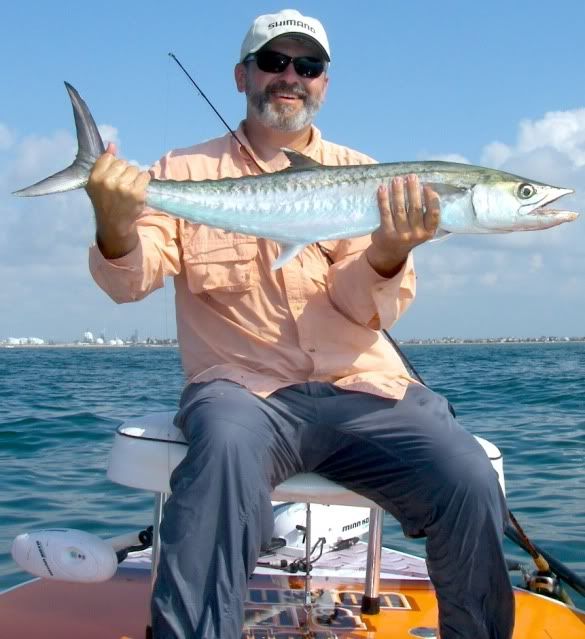 One of my kings: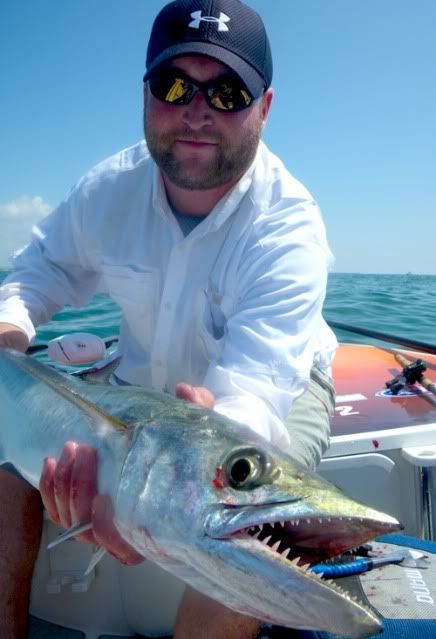 Fighting one to the boat. I used a 7'6" heavy-action G. Loomis and a Shimano Curado E7 for these fish. That little E7 holds a BUNCH of line, and it's got plenty of drag to fight bigger species. It's a challenge, but it's a lot of fun, too.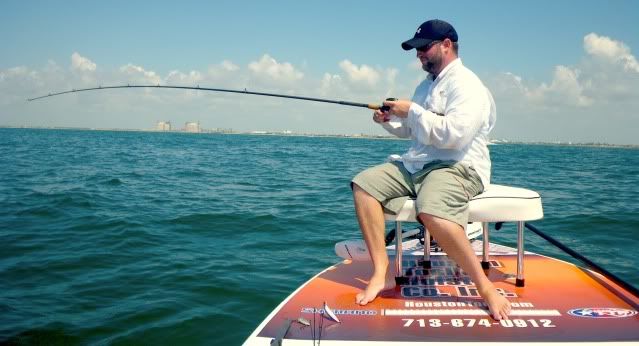 This was actually one of the smaller fish we landed: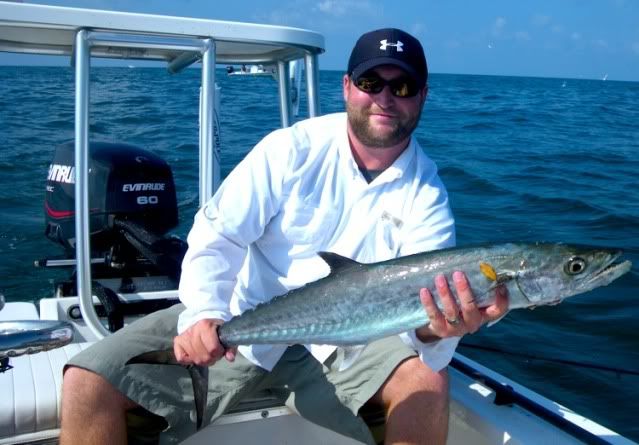 Great day on the water. We got our lines stretched, our tackle tested and even brought home some trout for the freezer. It don't get much better than that! It's a shame the wind has already kicked up again, I was looking forward to doing this again sometime soon. I'm crossing my fingers waiting on the green water and calm seas to make their way back.